Posted on
By Team Endurance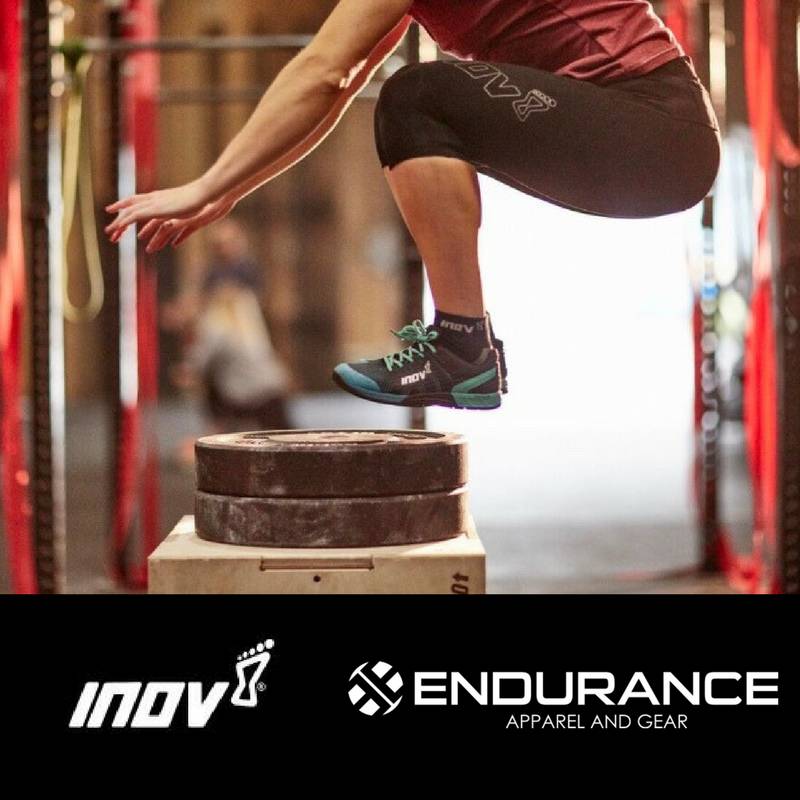 Back By Popular Demand – Inov-8 is coming back to Endurance for a few days! You won't want to miss them again, stop in the store and try on their all new F-lite 235, F-lite 260, and Lifters! Love them, which we know you will – SAVE 15% during these days ONLY.

We have a full schedule packed all around Hampton Roads:

Thursday, April 12th 12:00 p.m. – 7:00 p.m. at Endurance Apparel and Gear
Friday, April 13th 10:00 a.m. – 2:30 p.m. at Endurance Apparel and Gear
Friday, April 13th 3:00 p.m. – 6:30 p.m. at Crossfit Tidewater
Saturday, April 14th 7:30 a.m. – end of event at Crossfit Maron in Williamsburg
Monday, April 16th 10:00 a.m. – 4:00 p.m. at Endurance Apparel and Gear
Monday, April 16th 5:00 a.m. – 7:00 p.m. at Crossfit Dropbox
Tuesday, April 17th All day at Endurance Apparel and Gear

At Crossfit Tidewater, competitors at Do You Remember Your First Time, and Dropbox you will be able to not only try on the shoes, but wear them for the WOD's! Your first heat is 1 RM Cluster - try out the lifters and really max your 1 RM!

If you would like us to visit your box, let us know and we will do our best.

Why are the New Inov-8 Cross Training Shoes so great?
F-Lite 235
Need burpee protection? The improved toe bumper on the F-Lite 235s will not disappoint! The heels on these shoes are also designed for various movements during -your WOD – and with 360 degree Rope-tec, your next rope climb will be a breeze. If you're looking for a shoe that provides stability while lifting, you'll notice the dense heel and outsole flexibility at work, as well as the Powerheel technology and zero drop proprioception. If you hate changing shoes at the gym to run, you won't have to in these, as they have just enough cushion, a great fit, and are lightweight. This shoe also has Meta-flex technology, which allows for optimal multi-directional flexibility and the metcradle lacing system secures your foot in the show, which ensures the shoe moves naturally with your foot.
F-Lite 260
The first thing you'll notice about the F-Lite 260 is how breathable the upper knit on the shoe is, as well as how lightweight they are. These shoes also have the Rope-tec protection and the comfortable Powerflow midsole ensures superior comfort and protection that you need for your workout at the box, and also delivers 10% better shock absorption and 15% better energy return than other standard midsoles. Like the 235s, these also have a welded toe bumper to protect your toes during burpees and other movements during your WOD. When you turn the shoe over, you'll notice the Sticky Grip rubber sole, which provides an outstanding underfoot grip, ensuring stability for every workout.
Lifters
Inov-8 has a top performing lifting shoe, with BOA dial system on the top of the shoe for a custom fit every single time and allows for the wearer to micro adjust for a perfect fit. These lifters deliver maximum stability and forefoot flexibility for your functional and plyometric training. The external heel cage and Power-Truss technology ensures your lateral stability as well as a stable base for lifting, and the Meta-Flex technology in the forefoot allows for more comfortable movements so that you can easily transition from Olympic style weightlifting to other functional movements within the same workout while the welded rubber toe bumper also protects the toes.