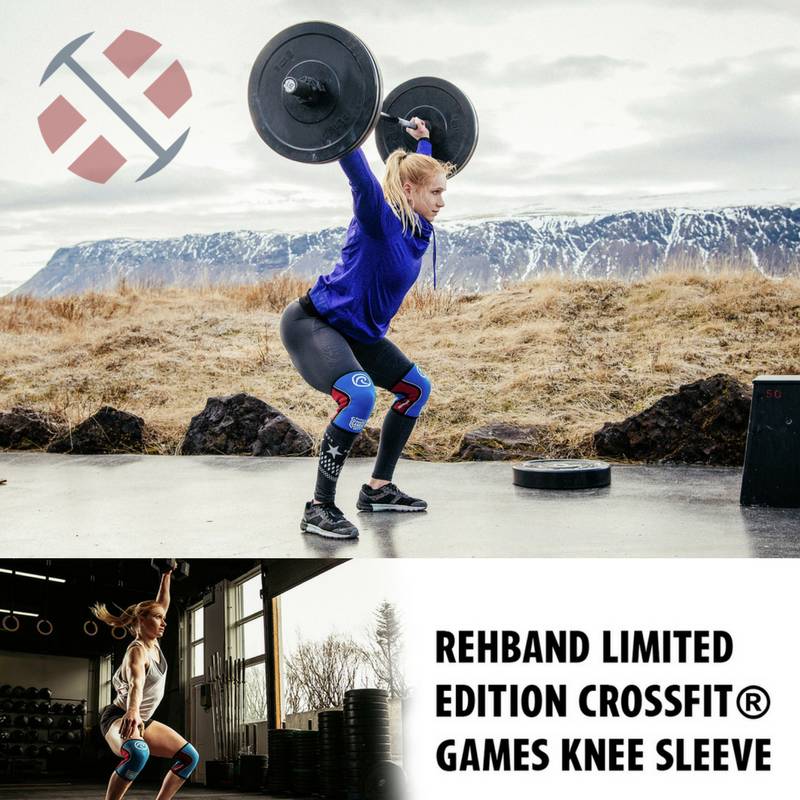 Rehband is proud to present the CrossFit® Games Limited Edition Knee Sleeves. The knee sleeves will launch in selected stores worldwide on May 12th, to celebrate the CrossFit® community and the CrossFit® athletes' quest of becoming Fittest on Earth™ at the CrossFit® Games in August. CrossFit® is a sport without limits and Rehband knee sleeves are designed to help CrossFitters enable their full potential while avoiding injuries.

Rehband sport support and protection has long been used by the CrossFit® community, and is the top choice of CrossFit® Games athletes such as Annie Thorisdottir, Rich Froning Jr., Camille LeBlanc- Bazinet, and Josh Bridges. For the third year in a row, Rehband is the official knee sleeve provider of the CrossFit® Games Knee Sleeves.

"When we first came across the sport of CrossFit® we were inspired by the athletes' aim to excel in every type of fitness, always pushing their limits," says Jerry Manderhjelm, Managing Director at Rehband. "Our goal is to keep the CrossFit® community active by protecting them during workouts and help them maximize their performance. Rehband knee sleeves are designed to provide support and protection for the broad and varied exercises CrossFitters practice."

This year's CrossFit® Games Limited Edition Rehband Knee Sleeves will be available in 5mm and 7mm thicknesses and in three different styles, designed with functionality, quality and style in mind. The CrossFit® Games Limited Edition Rehband Knee Sleeves are produced based on Rehband's renowned patented anatomic fit, and combine the key benefits of stability, compression and warmth. The 5mm knee sleeve benefits the athlete in varied training, and the 7mm knee sleeve offers powerful stabilization for heavy lifting.

"We are proud of Rehband's support of our quest to find the Fittest on Earth™ at the 2017 Reebok CrossFit® Games", says Mason Snyder, Corporate Sponsorships Manager at CrossFit, Inc.

"As an athlete, I would describe myself as competitive. I love going out to the floor and feeling that I'm ready to show what I can do," says Annie Thorisdottir, CrossFit® Games Champion 2011 and 2012 and Rehband Ambassador, who is currently preparing for the Regionals to qualify for the CrossFit® Games. "My knees are the biggest thing on me that tend to get tight. Going on to Rehband knee sleeves, my knees finally started getting better. The Rehbands fit so perfectly that my knees were still capable of moving the correct way, giving the support they were supposed to be giving me", she says.

The Rehband team will be on-site at the CrossFit® Games in Madison, Wisconsin, August 1 to 6. Rehband will provide all competing athletes, CrossFit® Games staff, and dedicated judges with a pair of limited edition knee sleeves.

The CrossFit® Games Limited Edition Rehband Knee Sleeves are available for purchase at Endurance Apparel and Gear. The price range is between
$39.99 to $49.99 USD per product.
For more information:
Don't miss our interview with CrossFit® Games Champion and Rehband ambassador Annie Thorisdottir.

About Rehband
With 60 years of know-how, one foot in medical science and one foot on the sports field Rehband knows how to enable your full potential, today and tomorrow. The patented products are preceded by extensive research and you can expect the highest quality, function and design. With a dedicated R&D team, textile engineers and own European factories, Rehband develops market leading products together with some of the world's top athletes. Today, Rehband is a trusted and loved brand by athletes at all levels, in more than 50 countries worldwide.

About CrossFit, Inc
CrossFit, Inc. is the developer and provider of the CrossFit® Fitness Program and a recognized worldwide leader in functional fitness. Founded by Greg Glassman and built on the foundations of constantly varied, high-intensity functional movements, education and collaborative competition, CrossFit®-brand workouts develop strength and fitness while cultivating community and camaraderie in each of the more than 12,000 affiliated gyms in its global network. CrossFit, Inc. is a leading accredited certificate issuer for physical-training professionals worldwide and offers specialty certificate programs in addition to its core curriculum. CrossFit, Inc. publishes the CrossFit® Journal, promotes physical and cognitive health and fitness through the CrossFit® Kids Foundation, and created and operates the CrossFit® Games, an annual competition where elite athletes compete to be named the Fittest on Earth™.
Rehband's are available online or in the store. Stop in the store and one of our Team Endurance members will measure you for the proper fit.