Posted on
By Team Endurance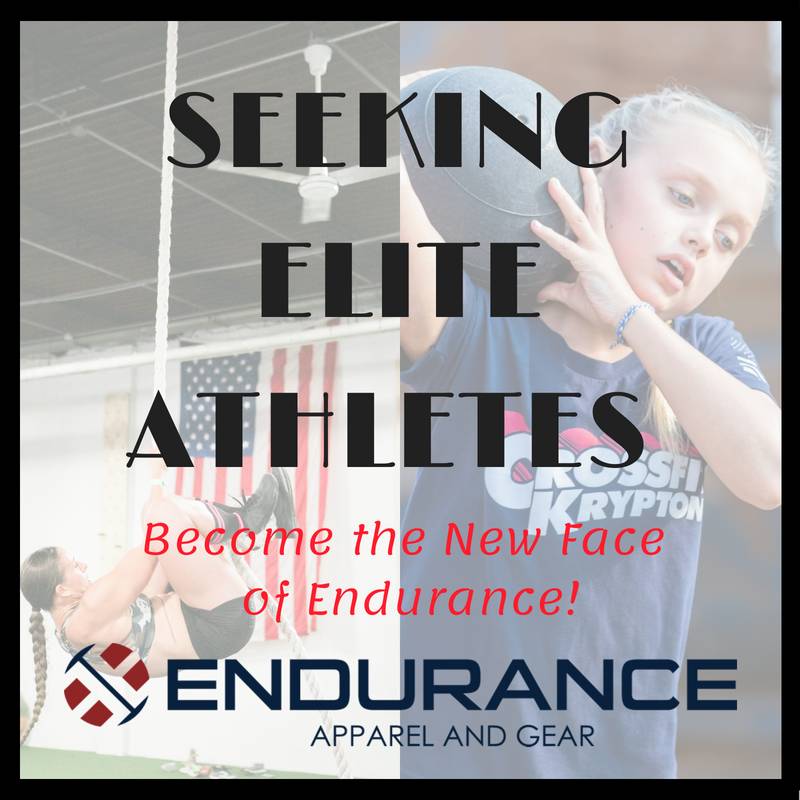 If you missed our Spring Seeking Elite Athletes! It is that time of year again. Endurance Apparel and Gear is looking for a new look this fall for our marketing material. With such amazing talented local athletes, we would like to give you the opportunity to be a featured athlete for our advertisements. If you are interested in representing Endurance Apparel and Gear on our marketing materials, send an Endurance photo along with a short paragraph explaining why you should be chosen to represent Endurance Apparel and Gear.


If you are selected*:
You will become the face and voice of Endurance Apparel and Gear brand to your local community.
The winner should receive not only bragging rights but also a $100.00 gift card, some Endurance apparel and a packaged filled with goodies
Your photo will be used on postcards, social media posts, prints, and other advertisements. 
If your photo was taken by a professional photographer, we will need copyrights. 
• We will need a short bio, your favorite quote, why you do what you do, and any other interesting information to feature about you.
You are of good character.
Keep us up to date of your competitions so we can cheer you on!
Create content and buzz for a new product launch or for a seasonal campaign –

We will give product to ambassadors to test/wear/experience and write about the product on social networks (blogs, posts, pictures, videos, etc). An example of such content would be posting a selfie wearing a shirt, pair of shoes, or any kind of gear with the product hashtag. Another example could be recording a product demo video and uploading it to YouTube, Instagram and/or Facebook.

Share and re-share marketing/brand message on social networks.
Answer community questions on social networks or via direct messaging.
Give ideas for new product design – new product ideas and features emerge from your feedback.
Vote on the new product designs – you will get to vote on product designs to pick the best designer/product on the private Facebook page.
We ask you to present a real-time product demo via video conferencing
Offer your followers your UNIQUE15 off discount link.
We ask you use this hashtag #EnduranceApparelandGear #EnduranceBrandAmbassador when you post and you must officially tag us with @enduranceapparelandgear when posting.
Please stay active with posting and representing us at least 4 times a month.
If you feel you cannot meet these requirements please do not submit a photo. 


Submission Requirements: 
• Submit your digital photograph by email. 
• Each file should be named with your full name. Multiple entries should be named with your full name followed by consecutive numbers. 
• Include your full name, address, phone number, and e-mail in your email. 
• Email a short paragraph explaining why you should be chosen to represent Endurance Apparel and Gear. 
• Picture must be 300dpi or higher.
• Photo must be emailed No Later Than September 15, 2018 11:59 p.m. EST.
• Photos will ONLY be accepted through email, photos sent through Facebook will not be entered into the contest. 
• Email to: [email protected] 

Rules and Qualifications:
• The contest is open to individuals only.
• Submission must be a fitness/workout photo.
• All ages and fitness levels are encouraged to enter. 
• Wearing Endurance Apparel and Gear is not a requirement; however, it is preferred.

Selection Process:
• The Endurance Team will select the top 5. 
• On September 24, 2018, the select 5 will be posted on social media for the community to vote on their favorite pick. We encourage you to let your family and friends know to vote for you. 
• Voting will end September 30, 2018 11:59 p.m. EST
• Winner will be announced October 3, 2018 

*If we find that you are not maintaining the following requirements, then you will be removed as face and brand ambassador effective immediately.

Please feel free to email us with any questions. [email protected] 

BY EMAILING YOUR PHOTO YOU HAVE READ AND UNDERSTAND THE PHOTO RELEASE FORM AGREEMENT BELOW.

Endurance Apparel and Gear Photo Release Form 
I hereby grant the Endurance Apparel and Gear permission to use my likeness in a photograph, video, or other digital media ("photo") in any and all of its publications, including web-based publications, without payment or other consideration.

I understand and agree that all photos will become the property of the Endurance Apparel and Gear and will not be returned.

I hereby irrevocably authorize the Endurance Apparel and Gear to edit, alter, copy, exhibit, publish, or distribute these photos for any lawful purpose. In addition, I waive any right to inspect or approve the finished product wherein my likeness appears. Additionally, I waive any right to royalties or other compensation arising or related to the use of the photo.

I hereby hold harmless, release, and forever discharge the Endurance Apparel and Gear from all claims, demands, and causes of action which I, my heirs, representatives, executors, administrators, or any other persons acting on my behalf or on behalf of my estate have or may have by reason of this authorization.
I HAVE READ AND UNDERSTAND THE ABOVE OFFICIAL RULES AND PHOTO RELEASE. I AFFIRM THAT I AM AT LEAST 18 YEARS OF AGE, OR, IF I AM UNDER 18 YEARS OF AGE, I HAVE OBTAINED THE REQUIRED CONSENT OF MY PARENTS/GUARDIANS AS EVIDENCED BY PARENTS WILL EMAIL PHOTO AND DETAILS.