Posted on
By Team Endurance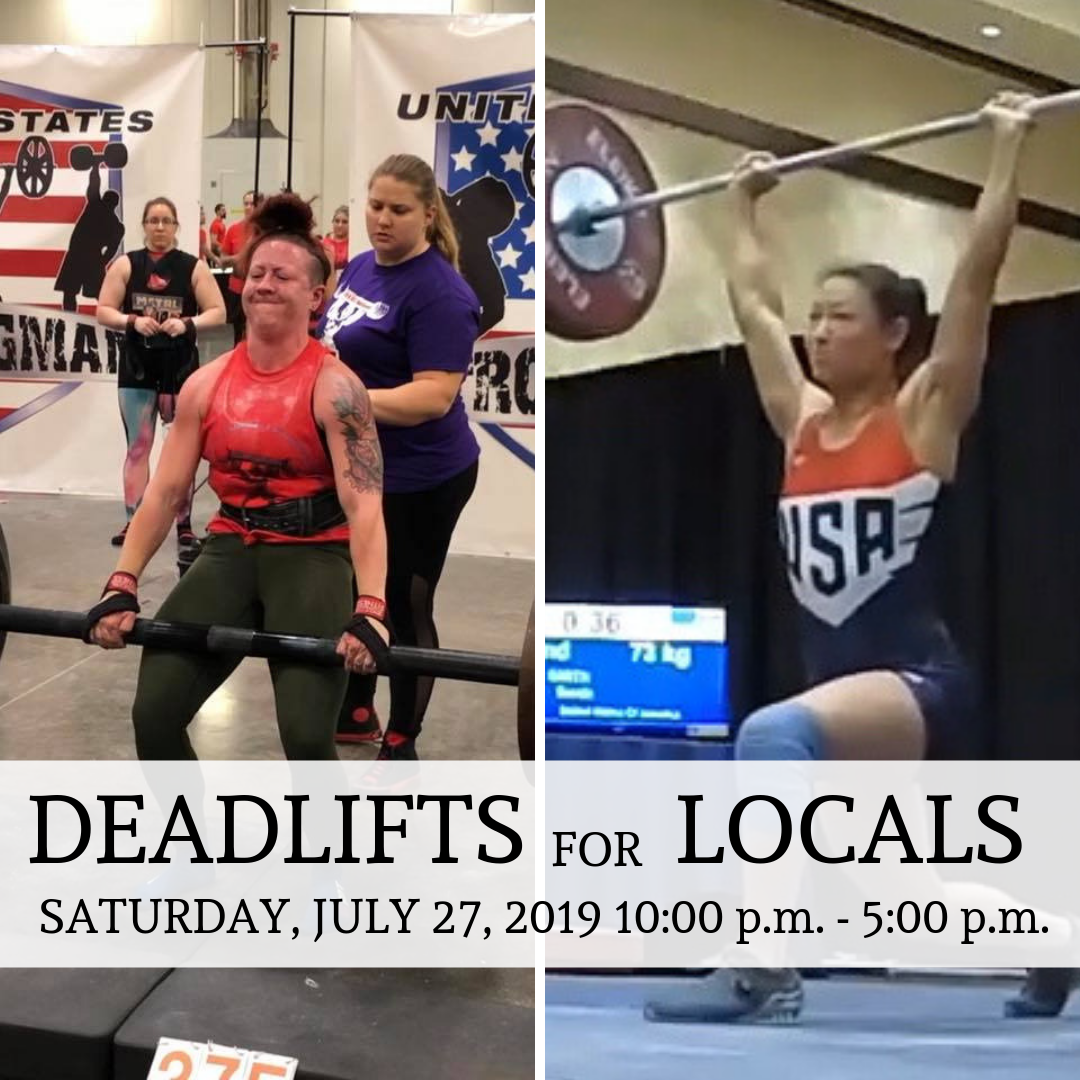 We invite you to our Deadlifts for Locals event.

When: Saturday, July 27, 2019
Time: 10:00 AM – 5:00 PM
Where: Endurance Apparel and Gear, Virginia Beach

It's National Support Local Business and Athletes Month! Join Team Endurance in this movement by stopping in July 27th from 10:00 – 5:00 for a fun deadlifting competition and fundraiser for a few of our local athletes with big goals.

Endurance is gearing up with local athletes and vendors to bring you our Deadlifts for Locals event on July 27 from 10:00 AM – 5:00 PM. Deadlifts for Locals is a charity event to support our local athletes going to different competitions across our country and the world! Anyone can enter the Deadlift Challenge; however those who make a donation to one or all of our local athletes will receive a special gift. Proceeds will go towards Jessica Mitchell and Sarah Smith.

Donation Gift Level:

• $12.00 - $24.00: Pick a free Gift from Endurance (While supplies last)
• $25 00 or more: Receive a free T-Shirt from any one of our local athletes** (Shirt donation will be made direct with athlete.)

Challenge:
• Deadlift Challenge Division:
o Men under 200lb
o Men above 200lb
o Women under 180lb
o Women above 180lb
o Kids (under age 15)
• Pick your weight (MAX weight available 300#)
• Rep your weight for 1 minute!
• Your score = Total number of reps X the weight you pulled
• Conventional ONLY
• Prizes for Women, Men and Kids Division

This event is about strategy! Pull a weight you know you can rep out for a whole minute.

Lifting straps and chalk allowed! (Forgot your straps or chalk? Endurance has regular and quick release straps available for purchase, PLUS Secret Stuff Liquid Chalk!)

Unable to make it into the event, Show your love and purchase any of our local athletes' tee shirts online:

Visit our Facebook page for full details and RSVP.
**Donations can be made directly to athletes or at checkout. Any donation of $25.00 or more can pre-order shirts direct with any one athlete. Shirts purchased prior to Deadlifts for Locals will not apply towards day of event. All donations must be made on July 27, 2019 to be entered to win the grand prize.
Endurance Apparel and Gear is NOT responsible for receiving tee shirt donations. Endurance Apparel and Gear is not responsible for you receiving your preorder made direct with athletes. You are welcome to pick up your apparel at Endurance, but all arrangements must be made direct with athlete.
Shirts purchased prior to Deadlift for Locals event will not be applied to the day of competition. A new donation will need to be made to participate in the deadlift challenge.