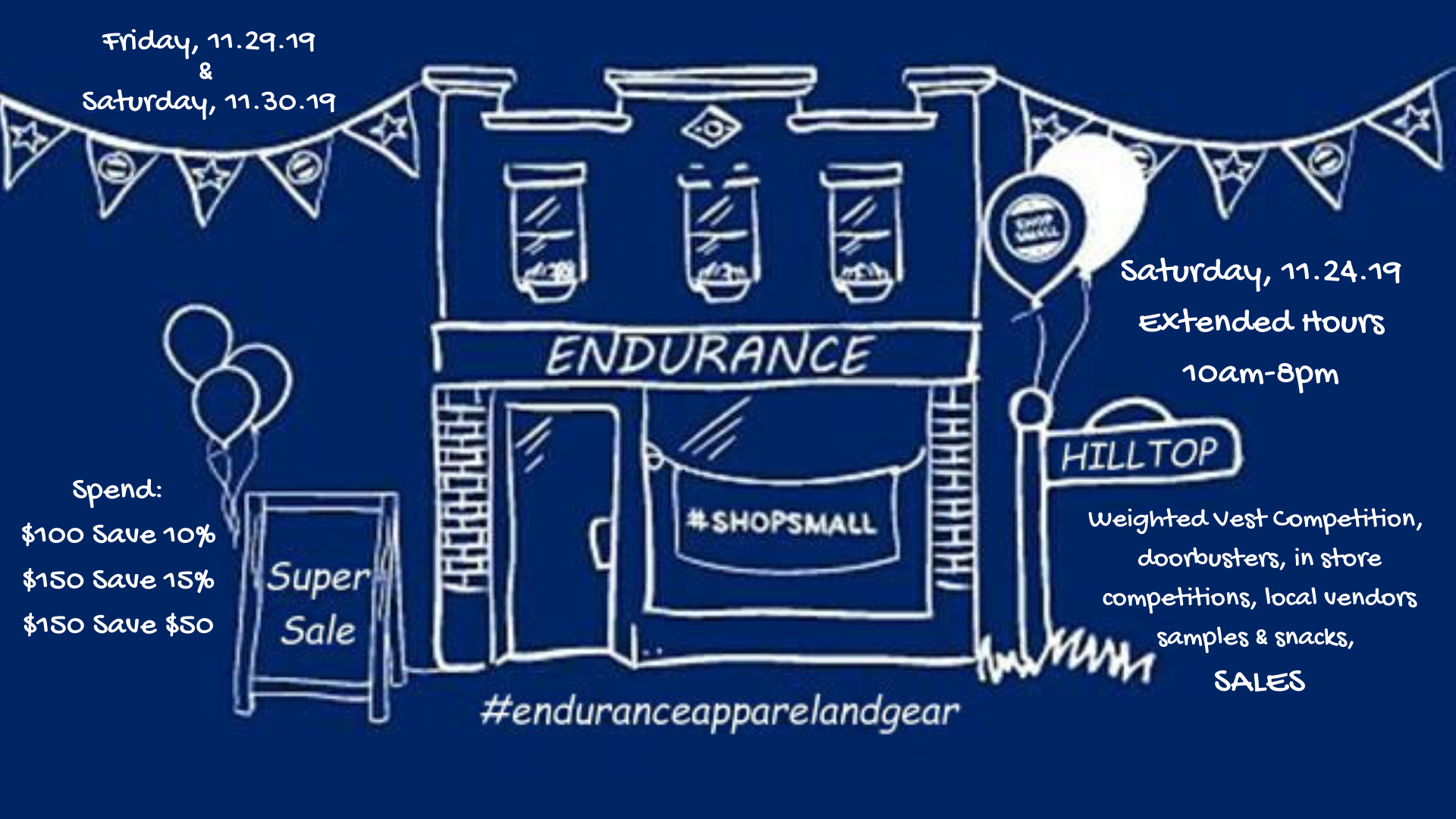 Join us Black Friday & Small Business Saturday for a STOREWIDE SALE! PLUS a Charity Squat Challenge!


Want to WIN Awesome Gear that you can keep or give for gifts? Join us ALL day Saturday from 10:00 - 8:00 and enter our Weighted Vest Challenge!


Enter ourvWeighted Vest Challenge
Rx 40#
Scaled 20#
Kids 10#



Prizes for Rx = Endurance Plate Carrier
Scaled = an Awesome Prize Package
Kids = Metal and a Killer Prize Package


Plus...
Door Busters for the first 10 guests!
Competitions to WIN Awesome Prizes from local vendors
HUGE Storewide SALE
PLUS Win Great Gear ALL Day!


Visit other local vendors within the store, each will be giving away prizes along with some fun challenges.

Stop by and support your local small businesses, shop for yourself or get your holiday shopping done!

Spend....
$100.00 SAVE 10%
$150.00 SAVE 15%
$250.00 SAVE $50.00
**Earn Double Points on ALL purchases made Friday and Saturday
*Sale includes already marked down items!

FREE Samples, Coffee, Hot Chocolate All Day!

Shop online Thursday November 28, 2019 – Saturday November 30, 2019!
Use Online Code:
Spend:
$100.00 Save 10% Code: BFSBS100save10%
$150.00 Save 15% Code: BFSBS150Save15%
$250.00 Save $50.00 Code: BFSBS250save$50

Thank you to our local vendors! Each vendor will have a fun competition throughout the day...Which one do you want to win?

River Smokehouse Food Truck – WIN Brisket Sandwich and FREE sideValue $15.99 12:00 – 1:00
Rodan and Field Whitney Decker - WIN a Skin Care Package Value 1:00 – 2:00
Restore Virginia Beach PBM, Cryo and 30 min Compression Value $110.00 2:00 – 3:00
Endurance WIN Resistance Band 3:00 – 4:00
The Neighborhood Harvest – WIN Salad Basket Value $50.00 4:00 – 5:00
Nutrition Coaching by Candace – WIN FREE Nutrition Value $95.00 5:00 – 6:00



WHAT IS SMALL BUSINESS SATURDAY?
Shop Small is a nationwide movement that celebrates small businesses every day and helps communities thrive and stay vibrant. Small Business Saturday® -- a special day when we can show support as a nation for small business owners and communities – helps fuel the Shop Small Movement and is the cornerstone of American Express' Shop Small efforts.


Small Business Saturday is a day dedicated to supporting small businesses and communities across the country. Founded by American Express in 2010, this day is celebrated each year on the Saturday after Thanksgiving. In 2019, you can get out and support the places you love with the people you love on November 30, 2019.


WHY SHOULD I SHOP SMALL BUSINESS SATURDAY?
As a consumer, you're a key part in helping small businesses thrive. By shopping or dining at small businesses throughout the year, you're showing your support for the small businesses in your neighborhood and in the communities you call your own.


HOW CAN I PARTICIPATE?
Anyone can support Small Business Saturday simply by shopping small on the day. Get up, get out and shop or dine at a local small business, invite friends to shop with you, or share on your social networks where you #ShopSmall.

Z104 STUFF THE BUS
POWERED BY STRAYER UNIVERSITY AND LANGLEY FEDERAL CREDIT UNION
…LIT BY STAGE RIGHT LIGHTING
Visit Z104 Link for full details.
Help Z104 and Shaggy, "STUFF THE BUS" with the U.S. Marine Corps Reserve and the Salvation Army, Friday, November 29th through Friday, December 6th!
For 14 years, Z104 has partnered with the U.S. Marine Corps Reserve: Toys for Tots Program, collecting over 1 MILLION TOYS for children in  Hampton Roads …with Shaggy dedicating 110 hours collecting toys at various locations across Hampton Roads.
Every toy counts …and every donation goes to the Toys for Tots Program. Help us give EVERY child in Hampton Roads a Christmas! Z104's
#Z104STUFFTHEBUS
The Marine Toys for Tots Program has been delivering a message of hope to less fortunate youngsters since 1947.
**Please do not donate toy weapon(s) of any kind**
BLACKFRIDAY WEEKEND
Friday, November 29, 2019             10AM - 8PM
TBA     
Saturday, November 30, 2019        10AM - 8PM
Edinburgh Commons                       201 Hillcrest Pkwy, Chesapeake, VA 23322
Sunday, December 01, 2019           12PM - 8PM
The Shops at Hilltop                          1604 Hilltop West Shopping Center, VB, VA 23451
 
MONDAY-FRIDAY                            
Monday, December 02, 2019            6AM - 8PM   
Walmart Supercenter #1631             1900 Cunningham Dr, Hampton, VA 23666
Tuesday, December 03, 2019            6AM - 8PM   
Walmart Supercenter #1688              657 Phoenix Dr, Virginia Beach, VA 23452
Wednesday, December 04, 2019       6AM - 8PM   
Walmart Supercenter #1773              12401 Jefferson Ave, Newport News, VA 23602
Thursday, December 05, 2019          6AM - 8PM   
Walmart Supercenter #1811              1170 N Military Hwy, Norfolk, VA 23502
Friday, December 06, 2019               6AM - 8PM   
Walmart Supercenter #4064              4821 Virginia Beach Blvd, Virginia Beach, VA 23462