Posted on
By Team Endurance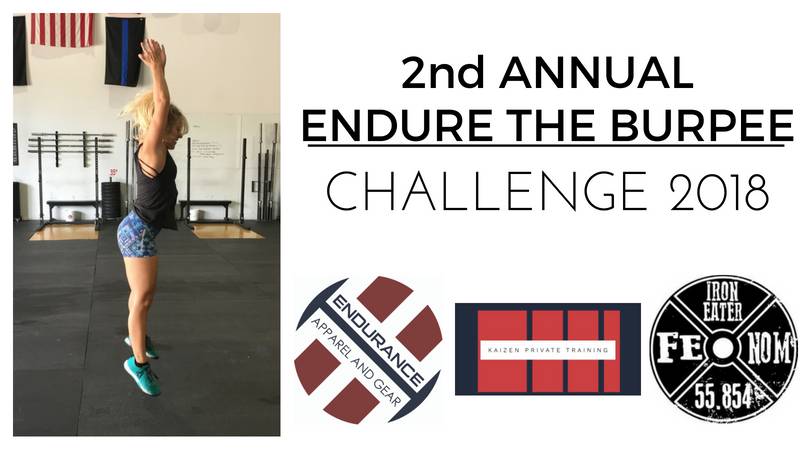 Burpees are one of those movements you love or hate! But hate them or love them the burpee is an effective exercises that will build overall strength and challenge your cardiovascular system all at the same time. What is great about burpees…you can do them anyway and it will work your entire body for an overall workout. This 30-day challenge is for everyone at any level, we want everyone to participate. Here are the ways to complete burpees at all levels:

Level 1: Beast Burpee
1. Stand straight, feet at shoulder width.
2. Go down to a squat position.
3. As soon as you reach the squat position, quickly thrust out your legs and bring your arms down so you're in a pushup / press up position. Chest must touch the ground. (Optional) Do a pushup/ press up.
4. Quickly bring your legs back in and get back into the squat position.
5. Jump as high as you can, both feet must leave the ground and hands must go above your head. Once you land, get back into a squat position and repeat the steps above.

Level 2: Basic Burpee
1. Stand straight, feet at shoulder width.
2. Go down to a squat position.
3. When you reach the squat position, step back with one leg into a plank position.
4. Worm into a pushup.
5. Step back into a squat position.
6. Hands must clap above your head.

What will I WIN?
Each athlete who completes the entire 30 day challenge will win: Endur the Burpee Challenge I completed 1300 Burpees in 30 days Challenge Tee Shirt. (Shipping not included)
Person with the fastest final time on day 30 will WIN: $100.00 Gift Card to Endurance Apparel and Gear

To enter:
1. Like the event on Facebook.
2. SMS Endurance will your email and contact info
3. Endurance will email you the waiver to sign – you MUST sign the waive and return it NLT June 28, 2018.

We will need:
• Need Tee shirt size
• Sign waiver and emailed back NLT June 28, 2018
• Once the waiver has been returned you will receive an email confirming you are in the challenge.

The Burpee Challenge is available to only 30 athletes who return the signed waiver on time.

Rules:
1. You must sign and return the waiver NLT June 28, 2018
2. Challenge will start July 1, 2018 – Final day is July 30, 2018
3. Final video MUST be posted NLT July 30, 2017 11:59pm
4. You will need to download an app to record your burpees – you must use this app only to submit your burpee videos daily. All videos must have a counter on the video or in the background.
5. Complete the burpees as scheduled.
6. Complete the burpees as prescribed in rules, (see rules or video for details)
7. You must post your completed burpees DAILY to Facebook. Tagging both @enduranceapparelandgear, @kaizen_private_training and @fenomironeater, make sure you hastag #endurtheburpeechallenge2018
8. If you do not post the video app daily and tag @enduranceapparelandgear, @kaizen_private_training and @fenomironeater, make sure you hashtag #endurtheburpeechallenge2018 you will be removed from the challenge.
9. Complete all 30 days of the challenge
10. Be sure to check with your doctor before you start any new exercise regimen.
11. Use proper form for best results and prevent injury.
12. Decide how many burpees you want to do at a time. You do not have to complete the burpees unbroken. DO NOT compromise form and risk injury.
13. No purchase necessary
14. Free to enter

Q&A:
Do I need to complete all the burpees unbroken?
No! We recommend sets of 10, form is most important to avoid injury.

Does it cost anything to enter?
No the challenge is FREE!

How soon should I enter the challenge?
ASAP – the deadline to return the waiver signed and be entered into the challenge is June 29, 2018. This challenge is only open to the first 30 athletes to return their waiver on time.

How do I WIN?
See Rules for details.

What will I win?
All athletes who complete the challenge as the rules follow will win an awesome tee shirt (does not include shipping). The person with the fastest time to complete all 100 burpees will win a $100.00 gift card from Endurance Apparel and Gear, $50.00 Gift Card from Fenom Iron Eater, 1 hour personal training with Kaizen Private Training!

What if you have a tie?
The tie breaker will be all times added up for an average of the fastest time over 30 days.

Do I need to live in Virginia to enter?
No, everyone all around is welcome to join the completion. $7.95 shipping charge will apply to all those who complete the challenge to receive the awesome tee shirt who live in the US. Additional shipping charges for overseas.

How many burpees do I do each day?
Day 1 = 5
Day 2 = 10
Day 3 = 15
Day 4 = 20
Day 5 = Rest Day
Day 6 = 20
Day 7 = 25
Day 8 = 30
Day 9 = 35
Day 10 = Rest Day Enjoy it
Day 11 = 35
Day 12 = 40
Day 13 = 45
Day 14 = 50
Day 15 = Rest Day You Deserve it
Day 16 = 50
Day 17 = 55
Day 18 = 60
Day 19 = 65
Day 20 = Rest Day Almost done
Day 21 = 65
Day 22 = 70
Day 23 = 75
Day 24 = 80
Day 25 = Rest Day by now you are a professional
Day 26 = 80
Day 27 = 85
Day 28 = 90
Day 29 = 95
DAY 30 = 100 – You made it – This is your Final Day!
Total 1300 Burpees!


Watch a How to do a Correct Burpee.