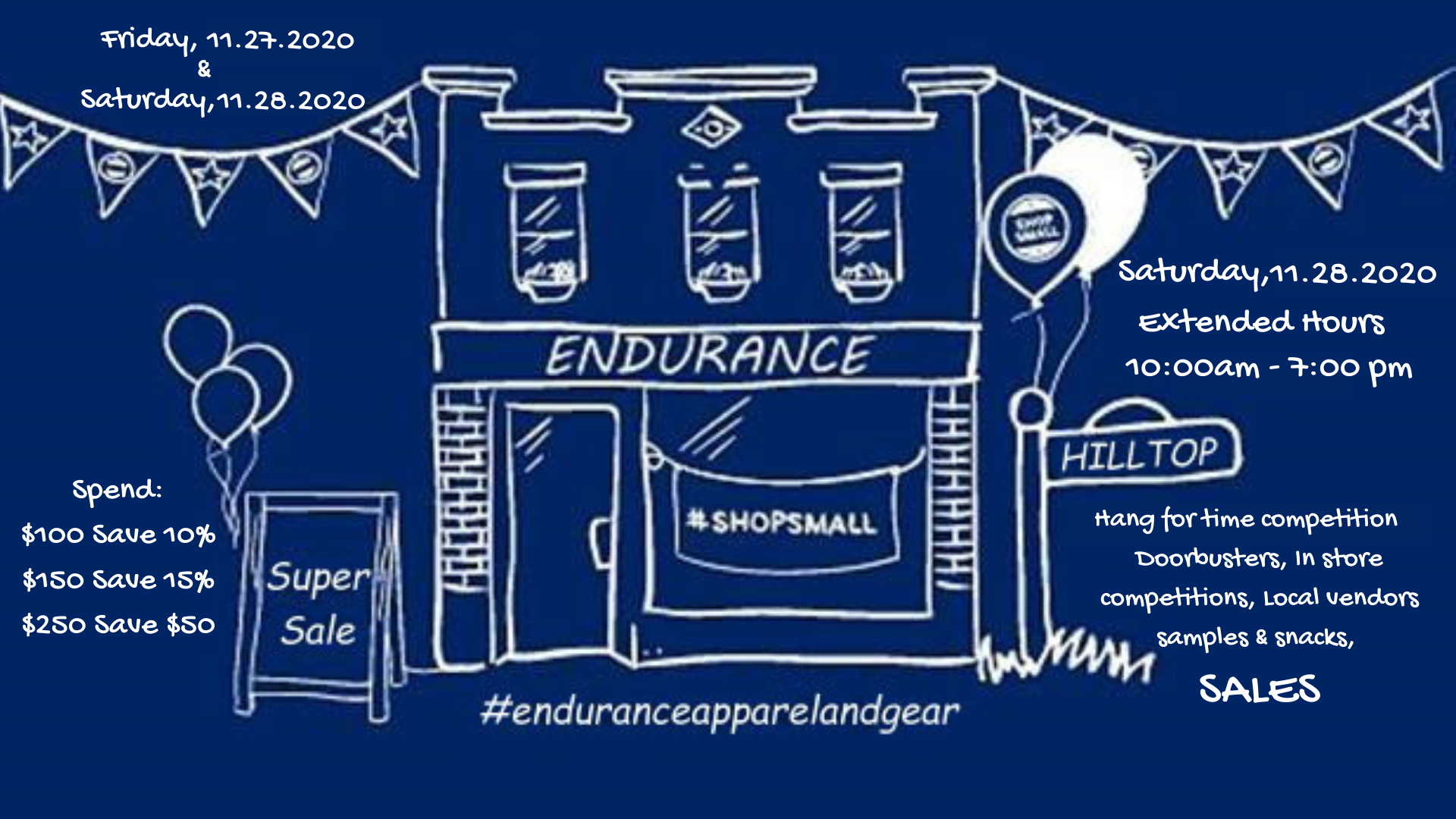 Join us on Black Friday & Small Business Saturday for a
STOREWIDE SALE -- check out the great savings below!
PLUS a Toys for Tots "Hang for Time" Challenge!
~ ~ ~
Want to WIN awesome Gear that you can keep or give as gifts?!
Join us ALL day Friday from 10:00am - 6:00pm for a STOREWIDE SALE!
~~~
Join us ALL day Saturday from 10:00am-7:00pm and enter our Toys for Tots Challenge!
- Hang from the Pull-up Bar for AS LONG AS YOU CAN!
- Prizes for top Male, Female and Kid winners!
~ ~ ~
Plus...
Door-Busters for the first *10* guests!
Competitions to WIN Awesome Prizes from local vendors
HUGE Storewide SALE
PLUS Win Great Gear ALL Day!
SAVINGS:
Spend....
$100.00 SAVE 10%
$150.00 SAVE 15%
$250.00 SAVE $50.00

**Earn Double Points on ALL purchases made Friday and Saturday
*Sale includes already marked down items!
FREE Samples, Coffee, Hot Chocolate All Day!
ONLINE SALE: Thursday Nov 28, 2019–Saturday Nov 30, 2019!
Use Online Code:
Spend:
$100.00 Save 10% Code: BFSBS100save10
$150.00 Save 15% Code: BFSBS150Save15
$250.00 Save $50.00 Code: BFSBS250save50

--> Anyone can enter the Bar-Hang Challenge; however those who make a donation will be entered in to WIN the Grand Prize!

Donation Grand Prize Gift Level:
• $5.00 or more (Team Endurance will purchase a gift in your honor and donate to "Stuff the Bus")
• Or bring an unwrapped gift with a value of $5.00 or more to enter.
--> What is Z104 Stuff the Bus https://www.facebook.com/events/2392471324402742/ a charity event that the owner of Endurance, Malissa, and her family have been donating to for the past 7 years. It is a charity that is near and dear to our heart.
- - - -
Thank you to our local vendors who will also be on site on
SMALL BUSINESS SATURDAY:
To be Announced.
~~~~~~~~~~~~~~~~~~~~~~~~~~~~~~~~~~~~~~~~~~~~~~~~~~~
WHAT IS SMALL BUSINESS SATURDAY?
#ShopSmall is a nationwide movement that celebrates small businesses every day and helps communities thrive and stay vibrant. Small Business Saturday® -- a special day when we can show support as a nation for small business owners and communities – helps fuel the Shop Small Movement and is the cornerstone of American Express' Shop Small efforts.
WHY SHOULD I SHOP SMALL BUSINESS SATURDAY?
As a consumer, you're a key part in helping small businesses thrive. By shopping or dining at small businesses throughout the year, you're showing your support for the small businesses in your neighborhood and in the communities you call your own.
HOW CAN I PARTICIPATE?
Anyone can support Small Business Saturday simply by shopping small! Get up, get out and shop or dine at a local small business, invite friends to shop with you, or share on your social networks where you #ShopSmall on Saturday, November 28th!